To be honest I bought this book as the cover looked so cute and it had curly hair like me 😀
I also bough this book as Beyoncé was talking about the author Chimamanda Ngozie-Adichie in her awsome song « Flawless ».
Synopsis

Ifemelu and Obinze are young and in love when they depart military-ruled Nigeria for the West. Beautiful, self-assured Ifemelu heads for America, where despite her academic success, she is forced to grapple with what it means to be black for the first time. Quiet, thoughtful Obinze had hoped to join her, but with post-9/11 America closed to him, he instead plunges into a dangerous, undocumented life in London. Fifteen years later, they reunite in a newly democratic Nigeria, and reignite their passion—for each other and for their homeland. 
My opinion
OMG I fucking love this book!!! ITS FUCKING AWSOME!
I think I related to it a lot being an African living abroad in Europe and facing similar issues as Ifemelu. The story is a story of self discovery, identity and returning home and facing the stigma of « leaving your country to go to the western world ».
Chimamanda is a brilliant author and very well versed in her country: Nigeria. She masters the art of identifying and questioning traditions, cultural differences, impact of the colonization and inherited trauma. She is addressing the African culture as a whole in Nigeria as well as how this African culture is defined outside of Africa: In the USA and the UK. It's interesting to see how she addressed this dynamic change through the tasks of everyday life. She also shine a light on a topic not often addressed by authors: the tense relationship between African Americans and Africans non-Americans. In Americanah, we see it in the way they chose to wear their hair, the « accent » remarks and the mindset these non-American have that is more open minded than the stereotyped version fed by the media and the mainstream. I personally loved the fact that she spoke openly about it, as people still have this inherited colonial way of thinking that whatever comes from the west is better than what is in Africa. Even the fact that Obinze preferred to live as an undocumented migrant in the UK rather than in his own country as a free and respected man is a statement to it!
Ifemelu, the main character says she only became « black » when she arrived in the US. Oh how I relate to this sentence as I became « African » and a « Moroccan » when I moved to Belgium. It was fascinating to see how people abroad identified me quickly by a checklist of behavior and statements based on the fact that I am an African woman and especially a Moroccan woman. And I will never understand the fascination of the westerners with the curly hair and our look. Its always a gender and race issue here as it feels like the western world never accepted that there is more to Africa then the diminishing and limiting stereotypes in Hollywood movies. Chimamanda captured this immigrant dilemma so fucking well in this book!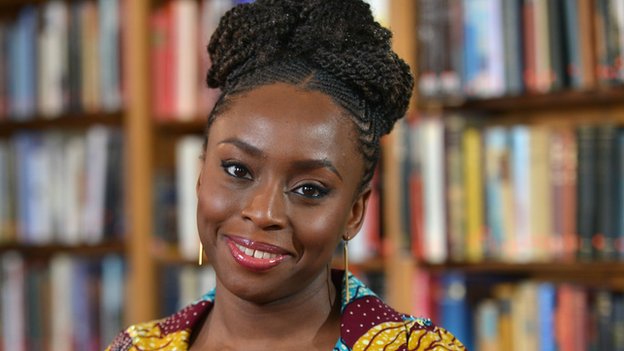 I love how Chimamanda includes the impact of love stories and partner choices in the life of her character. throughout the book, its evident that Ifemelu grew as a woman and as an individual thanks to all her hardships she faced at every level. She is a woman with her flaws and it is what makes her human and relatable. Yet this book is more than a star-crossed love story.
Americanah is a simple yet complex book. The author gives a lot of details on real and current subjects like immigration, identity and race. It gives an insight on different worlds: Nigeria and its corruption, poverty, strong link to tradition and love-hate relationships with Africans who chose to leave for a better life. And the Immigrant dilemma abroad in western countries with their fight against racism, prejudice, the struggles to create a life abroad and to be respected as a scholar/student/worker.
Ifemelu is a blogger, like me 😀 And her blog posts, her remarks and quirks she noticed about this American society VS Nigerian society are so well described that we could esily follow her life changes and evolution. The author ensured that there is a strong focus on the psychological side of the character and her personality.
Americanah is a MUST read and a masterpiece covering the social and cultural reality of Africans abroad and in Africa. It will open your eyes on so many situations and subjects and enrich your knowledge on this subject!